We know the freshest seasonal ingredients make the tastiest meals, and this philosophy of working with local farms and suppliers has been in place since our founding in 1998 – making us an original farm to table caterer.
We love food and believe in furthering our knowledge; we're constantly working on new recipes and special requests. Our chefs have varied culinary backgrounds and can prepare almost anything.
Check out our menu ideas below. We make everything from scratch so the listed items can be altered to suit your requirements–and we have talented and versatile chefs who can prepare pretty much any dish you would like.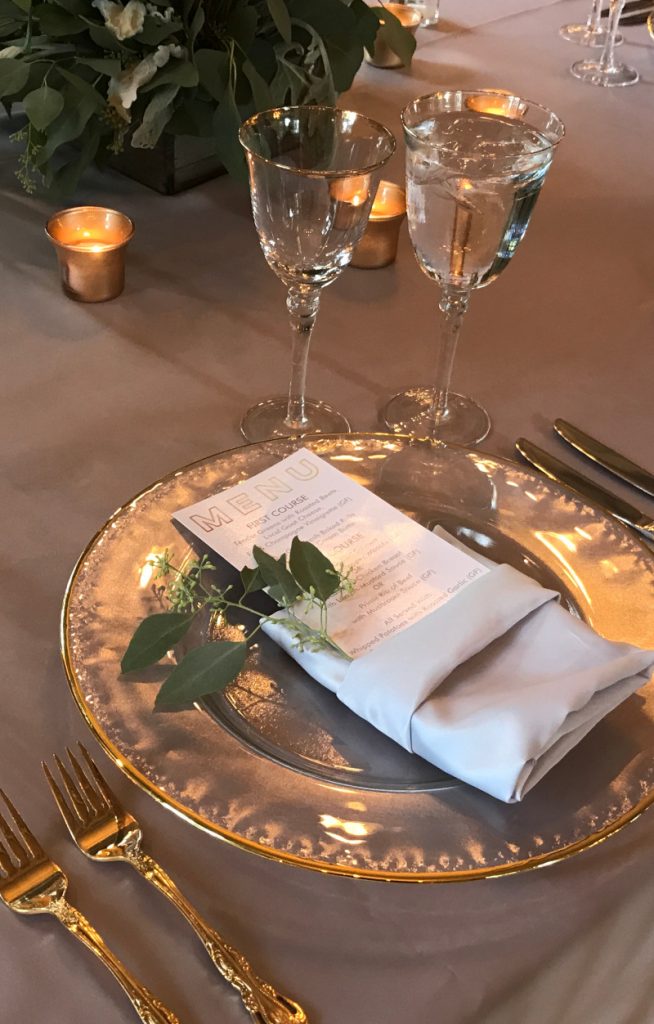 ---
---
Meat Selections
Baby Lamb Chops with Mustard, Garlic & Parsley Crust
Spicy Lamb Meatballs with Tahini
Argentinian Beef Skewer with Chimichurri
Beef Empanadas with Chile Aioli
Mini Beef Sliders with Leaf Lettuce & Ketchup on Potato Bun
Other Sliders: BBQ Short Rib / Carolina Pulled Pork with Chipotle Slaw / Grilled Chicken Parm / Sesame Ginger Pork Belly / More…
Moroccan Lemon & Cardamom Meatballs
Sesame Scallion Korean Style Steak Tartar on Crisp Pear
Pigs in a Blanket with Honey Mustard
Five Spice Roasted Pork Skewer with Hoisin
Steamed Pork & Leek Dumplings with Sweet Chili Sauce
Pork, Ricotta & Sage Meatballs with Roasted Tomato Sauce
Bacon, Tomato Bruschetta, Basil Aioli on Crostini
Dates Stuffed with Almond and Blue Cheese Wrapped in Bacon
Fig, Goat Cheese & Prosciutto Tart
Sliced Duck Breast with Stone Fruit Compote
Chile Chicken with Guacamole on Corn Chip
Thai Chicken Sate with Peanut Dipping Sauce
Mini Chicken and Waffles with New York Maple Syrup
Chicken Tikka Skewer
Chicken Liver Mousse with Pickled Red Onion on Crostini
Chicken Bahn Mi
Sesame Chicken Meatballs
Cuban Mojo Chicken with Avocado Mango Salsa
Scoop Chip Tacos: Beef / Chicken / Fish / Bean, with Pico de Gallo and Cilantro Lime Cream
Open Faced Sweet Potato Biscuit with Ham, Mustard, and Radish
Crispy Arancini with Roasted Apple and Pancetta

Seafood Selections
Catsmo Smoked Salmon on Rye with Scallion Cream Cheese
Smoked Salmon Tarama on Pita Chip
Sushi Rolls – Ahi Tuna / Salmon / California / Daikon
Blini with Caviar, Crème Fraiche & Dill
Garlic Seared Diver Scallops on Parmesan Crisp with Celery Leaf Garnish
Steamed Shrimp Dumplings with Sweet Chili Sauce
Butter Poached Shrimp with Crispy Pancetta
Scallops Wrapped in Bacon with Ginger Dipping Sauce
Tuna Tataki on Wonton Crisp
Togarashi-Seared Tuna with Avocado Salsa on Cucumber Round
Coconut Shrimp with Chinese Hot Mustard
Maryland Crab Cakes with Madagascar Vanilla Tartar Sauce
Classic Jumbo Shrimp Cocktail
Mini Oyster Po Boys on Garlic Crostini with Tartar Sauce
"Clams Casino" Crostini
Maine-Style Lobster Roll
Smoked Trout with Crème Fraiche & Pickled Onion on Dark Bread
Crab and Spinach Mousse in Tartlet
Mini Wonton Crisps with Ahi Tuna Poke and Avocado
Grilled Salmon Skewer Poke Style
Cajun Shrimp and Grits
Crab and Corn Fritters with Chipotle Aioli
Brown Butter Scallops with Bacon Jam

Vegetarian Selections
Roasted Beet and Truffled Goat Cheese Tartlet
Apricot, Ricotta & Pine Nut Tartlet
Brie on Apple / Pear with Pecan & Local Maple
Wild Mushroom & Goat Cheese Tartlet
Wild Mushroom Polenta Diamonds
Mushroom & Kale Quesadillas with Fresh Salsa
Zucchini Pancakes with Lemon Sour Cream
Potato Pancakes with Apple Sauce
Baked Stuffed Mushrooms with Pesto
Indian Potato Samosas with Tamarind Chutney
Artichoke & Cheese Soufflé Bites
Mini Falafels with Tahini Sauce
Portobello Mushroom Frites with Horseradish Aioli
Whipped Ricotta with Fresh Peach & Maple on Crostini
Pumpkin Sage Walnut Crostini
Caramelized Onion, Brie & Apple Tartlet
Black Bean Cake with Coconut Chipotle Sauce
Steamed Vegetarian Dumplings with Sweet Chili Sauce
Grilled Corn, Crema Mexicana & Cilantro Crostini
Deviled Eggs with Pickled Beet
Mozzarella, Tomato & Basil Skewers with Balsamic Reduction
Watermelon and Feta Canapes with Toasted Sesame Seeds
Mini Grilled Cheese Sandwiches with Fig Jam
Truffled Mac & Cheese Bites
Thai Tofu Sate with Peanut Dipping Sauce
Avocado Tartare on Rice Cracker
Charred Carrot Bruschetta with Goat Cheese & Parsley
Buffalo Cauliflower Bites
Watermelon Radish and Herb Goat Cheese Crostini with Truffle Oil
Soup Shots – Classic Tomato-Cucumber Gazpacho / Roasted Corn Chowder / Curried Butternut Squash / Classic Tomato
Mini Empanadas with Cheese and Guava
Parmesan Pretzel Bites with Cheesy Sauce
*Note – the stations can be modified as desired. Feel free to select specific items and create your own station. Cheese & Fruit Boards
Selection of Artisanal Cheeses
Garnished with Fresh Seasonal Fruit, Dried Fruit & Nuts
Assorted Crackers / Imported Olives
Crudités
Arrangement of Market-Fresh Vegetables
Served with Pesto Aioli / Olive Tapenade
Hudson Valley Bounty Table
Selection of Cured Meats & Artisanal Cheeses
Garnished with Fresh Seasonal Fruit, Dried Fruit & Nuts
Breads / Crackers / Imported Olives / House-Made Spiced Nuts
Chicken Liver Mousse / Whole Grain Mustard / Caperberries
Market-Fresh Vegetables with Olive Tapenade / Pesto Aioli
Red Pepper Hummus with Toasted Pita Chips
Mediterranean Table
Tahini Hummus / Artichoke, Lemon & Garlic Spread / Baba Ghanoush
Stuffed Grape Leaves / Mini Falafel / Feta in Olive Oil Market Fresh Vegetables
Carrot Cumin Salad with Lemon and Parsley
Muhammara – Roasted Pepper, Almond, Pomegranate
Pita and Whole Grain Breads / House-Made Spiced Nuts
Rustic Tarts
Roasted Red Beet, Goat Cheese, Hazelnut / Tomato, Basil, Fresh Mozzarella
Goat Cheese, Fig Spread, Arugula / Prosciutto, Caramelized Onion / Olive Salad, Hard Boiled Egg
Smoked Fish Display
Catsmo Smoked Salmon / Smoked Trout Filet
Tomato / Red Onion / Capers / Cream Cheese / Horseradish / Butter / Lemon
Assorted Breads
Cold Seafood Presentation
Freshly Shucked Oysters & Clams on the Half Shell / Steamed Shrimp
Classic Cocktail / Lemon
Crostini Bar
Chicken Liver Mousse / Smoked Trout or Salmon Mousse / Soft Goat Cheese / Whipped Ricotta / White Bean
Tomato Basil / Calamata Olive / Pickled Red Onion / Roasted Garlic Butter / Fruit Chutney
Progressive Cocktail Station Ideas – Some Possibilities
Gastro Pub
Select from the following- Hudson Valley Beef Sliders, Veggie, Chicken (Fried or Grilled)-NY Cheddar, Bacon, Lettuce, Tomato, Onion, Potato Buns, Pretzel Buns, Ketchup, Sriracha Mayo, Garlic Truffle Aioli, Whole Grain Mustard
Wings- Chipotle Honey, Balsamic BBQ, Citrus Lemongrass,
Classic Blackened Sustainable Fish Tacos, Lime Sour Cream, Slaw, Hot Sauce
Deep Dish Pizza- Cheese, Sausage, Veggie
Pulled Pork Sliders with Chipotle Slaw on a Mini Bun
Cauliflower Cheddar IPA Soup Shooters
Lettuce Cups with Blue Cheese and Bacon
Beet and Goat Cheese Carpaccio

Noodle Bar
Choose your Noodle and Protein
Pancit – Philippine rice vermicelli noodles
Pad Thai – Thai rice stick noodle
Lo Mein – Chinese -wheat noodle
Chicken / Beef / Shrimp / Pork / Tofu
All with Vegetable Garnish

Middle Eastern Station
Choose Protein: Lamb, Chicken, Beef, Fish, Falafel
Red Pepper Humus, Charred Eggplant Baba Ganoush, Olive Tapenade, Tabouleh Salad
Marinated Artichoke Hearts, Olives, Tomatoes, Red Onion, Tzatziki Sauce, Warm Pita

Wing Station
Sticky Lemongrass with Chipotle Sauce
Chinese Sweet & Salty
Serrano Hot & Buttery
Soup & Grilled Cheese Station
NY Sharp Cheddar with Fig Jam / Provolone & House Made Pickle / Black Forest Ham & Gouda
Classic Tomato / Apple-Butternut Squash / Seafood Bisque

Asian Bao Station
Boa Bun Fillings-
Hoisin Duck / Classic Pork Belly / Mongolian Beef / Five Spice Chicken / Szechuan Blackened Sustainable Fish / Yellow Curried Roasted Cauliflower
House Pickles, Sriracha, Spicy Cucumber Salad, Scallions, Slaw, Ginger Sauce, Hoisin


Pasta Station
Bolognese Sauce & Parmesan
Vodka Sauce with Cream, Parmesan & Fresh Basil
Basil Pesto with Seasonal Vegetables
Oil Cured Black Olives, Garlic, Cherry Tomatoes, Feta & Fresh Basil
Cheese Tortellini with Gorgonzola Cream & Fresh Herbs

Naan Flatbread Station
Includes Coconut Curry Vegetables, Onion and Tomato Subzi, Tofu Paneer Masala, Tamarind Chutney
Naan Flat Bread Options-
Ground Lamb, Yogurt, Fresh Mint
Spicy Pork Vindaloo, Ginger, Cinnamon
Madras Beef, Curry, Coconut
Chicken Tika Masala, Fresh Tomato, Cilantro
Roasted Mushroom, Baby Arugula, Cherry Peppers
Cheese and Herb, Olive Oil, Garlic


Slider Station
Select from the following:
Sliders: Local Beef, Garlic Mint Lamb, Spiced Turkey, Asian Salmon, Veggie on Small Buns
Fixin's: Cheddar / Bacon / Lettuce, Tomato, Onion / Sriracha Mayonnaise / Ketchup & Mustard / Herb Yogurt

Tapas Bar
Seafood & Chicken Paella / Roasted & Sliced Chorizo
Calamari in Romesco Sauce
Tortillas a la Espanola
Sautéed Artichokes & Mushrooms / Eggplant Salad
Manchego Cheese / Salted Toasted Almonds / Spanish Olives

Farm Stand Table
Mosaic Display of Grilled Taliaferro Farm Vegetables Drizzled with Olive Oil, Balsamic & Sea Salt
Heirloom Tomato & Cucumber Gazpacho
Saunderskill Farm Sweet Corn & Roasted Zucchini Succotash
Sweet Red Watermelon, Feta, Cucumber & Mint Salad

Build Your Own Summer Salad Table
Sorbello's Mixed Local Mesclun Greens & Chopped Romaine
Farm Tomatoes / Sliced Cucumber / Red Cabbage / Red Onion / Julienne Carrot
Fresh Berries / Dried Cranberries / Golden Raisins
Toasted Almonds / Tamari Toasted Sunflower Seeds
Marinated Pitted Olives / Toasted Garlic Croutons
Blue Cheese / Feta Cheese / Parmesan Cheese
Choice of Home-Made Dressings:
Fresh Herb-Champagne Vinaigrette / Balsamic Vinaigrette / Classic Caesar / Ranch
Make Your Own Sandwiches
Our Own Fresh Baked Rolls & Brioche Bread
Roast Beef, Havarti, Watercress & Horseradish Cream
Bourbon-Brown Sugar Glazed Ham with Jarlsberg & Grainy Mustard
Herb Roast Turkey Breast with Leaf Lettuce & Pear Chutney
Grilled Vegetable, Fresh Mozzarella, Spinach & Basil Pesto Aioli

Carving Stations
Beef Tenderloin Display
Rare Roast Tenderloin of Beef
Horseradish Sauce / Watercress Sauce / Soft Rolls
or
Turkey Display
Fresh Turkey Roasted with Aromatic Herbs
Pesto Aioli / Pear Chutney / Soft Rolls
or
Smoked Ham Display
Hickory-Smoked Ham Glazed with Bourbon-Brown Sugar-Honey Glaze
Fruit Chutney / Country Mustard / Housemade Buttermilk Biscuits
Popcorn Station
Popcorn Machine with Fresh-Popped Popcorn
Assorted Toppings:
Togarashi / Rosemary Parmesan / Cinnamon Sugar / Butter
Soup
Rustic Gazpacho with Spicy Cucumber Slaw
Butternut Squash & Apple Bisque
Local Sweet Corn Chowder
Potato Leek with Herbed Crème Fraiche
Vegetarian Red Beet Borscht
*
Salad
Baby Spinach with Apple, Bacon Lardons, Caramelized Pecans & Maple Vinaigrette
Apple and Radicchio with Goat Cheese, Tamari Toasted Sunflower Seeds, Apple Cider Vinaigrette
Tender Greens with Creamy Goat Cheese Herb Dressing & Sweet-Crunchy Garlic
Classic Caesar Salad with Housemade Croutons
Tender Greens with Tomato, Local Peach, Fresh Basil & Balsamic Vinaigrette
Tomato, Basil, & Mozzarella with Balsamic Vinaigrette
Tender Greens with Mandarin Oranges, Toasted Almonds, Red Onions & Sweet-Sour Poppy Dressing
Spinach-Watercress Salad with Candied Walnuts, Apples, Orange-Sesame Vinaigrette
Arugula, Romaine, Hearts of Palm, Avocado, Tomato, Pine Nuts in Olive Oil & Lemon Dressing with Shaved Parmesan
Tri-Color Salad with Garlic Croutons, Balsamic Vinaigrette & Gorgonzola
Summer Green Salad with Radish, Tamari Toasted Sunflower Seeds & Herb-Yogurt Dressing
Fall Greens, Endive, Watercress with Pear, Walnuts, Blue Cheese & Champagne-Honey Vinaigrette
Tender Greens with Roasted Beets, Local Goat Cheese, Fig & Champagne Vinaigrette
Watermelon, Tomato, Feta Salad with Mint
Beet and Arugula Salad, Lime Vinaigrette, Red Onions, Chèvre, Pepitas
Quinoa Salad with Grilled Vegetables, Feta, Baby Spinach, Pickled Red Onions, Spicy Cashews, Champagne Vinaigrette
Entrée Selections
Roast Beef Tenderloin with Shallot Confit & Port Wine Sauce
Teriyaki Beef Tenderloin with Shiitake Mushrooms
Beef with with one of the following options Port Wine Demi Glace / Shiitake Mushroom Ragout / Cognac Cream
New York Strip Loin with Herbs & Cracked Black Pepper & Red Wine Sauce
Cajun Strip Loin Roasted with Black Pepper, Garlic, Salt and a Creole Mustard Sauce
Beef Bourguignon with Pearl Onions, Carrots, Lardon & Burgundy Wine Sauce
Classic Slow Cooked Short Ribs
Asian BBQ Beef Short Ribs
Braised Beef Short Ribs with Orange, Ginger & Fig
Beer-Braised Brisket of Beef with Bacon & Caramelized Onion
Hanger Steak- Dijon, Rosemary, Garlic, Lemon Zest
Grilled Flank Steak with Garlic-Citrus Marinade
Argentinian-Style Grilled Skirt Steak with Chimichurri
Mediterranean Style Slow Roasted Beef (or Pork)
Prime Rib of Beef with Horseradish Sauce / Mushroom Sauce
Rack of Lamb Chops Persillade with Mustard, Garlic & Parsley
Grilled Leg of Lamb with Garlic, Rosemary & Lemon
Lamb & Vegetable Kebabs with Pomegranate Glaze
Coriander-Mustard Glazed Pork Loin & Apple Chutney
Roast Pork Loin with Rosemary & Garlic
5 Spiced Pork Belly with Peanut Salad
Marinated Caribbean Roast Pork with Sour Orange & Aromatic Herbs
*
Butter and Herb Roasted Murray's Free Range Chicken with Herb Pan Jus or Pancetta Honey Jus
French Cut Chicken Breast with Honey, Lemon & Thyme or Fennel, Garlic & Currants
Sautéed Chicken with Green Herb-Pepita Mole Sauce
Mustard Herb Grilled Chicken on the Bone
Grilled Lemon Chicken Breasts Marinated in Wine, Garlic, Lemon & Herbs
Scaloppini Chicken Breast with Lemon-Mustard Sauce
Chicken Francese with a Lemon Beurre Blanc
Roasted Chicken Breasts Stuffed with Spinach, Herbs & Fontina
Grilled Anguillan Barbequed Chicken with Spicy-Tangy Sauce
Oven Braised Chicken Breasts & Thighs with White Wine, Onions, Carrots, Prunes & Herbs de Provence
Mediterranean Style Chicken with Tomatoes, Olives & Capers
Lemon Chicken with Golden Raisins & Saffron
Teriyaki Chicken & Vegetable Kebabs
Pan-Seared Duck Breast with Sour Cherry Agrodolce
Carved Roast Turkey Breast with Pan Gravy & Pear Chutney
Roast Turkey Roulade Filled with Aromatic Herbs, Pan Gravy & Pesto
*
Pan-Seared or Grilled Salmon with a choice of Pistachio-Basil Butter / Fresh Fruit Salsa / Balsamic Glaze / Honey Mustard Sauce / Tomato, Artichoke & Caper Ragout
Baked Stuffed Salmon with Smoked Salmon, Pepperoncini, Cream Cheese & Dill
Cold-Poached Salmon with Cucumber Scales & Dill Sour Cream
Chardonnay Poached Salmon with Tarragon Aioli
Teriyaki Grilled Salmon with Sweet Red Pepper Wasabi
Pan Seared Atlantic Halibut with one of the following-Citrus Beurre Blanc / Tomato Confit / Miso Honey Glaze
Pecan Crusted Catfish with Tomato Chutney
Grilled Whole Boneless Spring Trout with a choice of Fennel, Orange, Olive & Parsley / Herb Butter / Lemon-Caper Beurre Blanc
Pan Seared Red Snapper with Cilantro & Tamarind
Grilled Rare Jerk Ahi Tuna with Fresh Fruit Salsa
Grilled Rare Ahi Tuna with Tomato, Garlic & Olive Confit
Bass with Fennel, Orange & Capers
Roasted Cod with Miso Mustard / Fried Garlic & Chili / Lime-Coconut
Salt Cod, Tomatoes, Capers & Fresh Mint
Vegetarian / Vegan
Portobello Napoleon of Roasted Red Peppers, Spinach, Fresh Mozzarella & Grilled Eggplant with Tomato Confit over Polenta Cake
Quinoa-Kale Cakes with Parmesan & Wild Mushroom Ragout
Mushroom Polenta Pie with Swiss Chard
Roasted Stuffed Poblano Peppers with Quinoa, Corn & Queso Fresco
Stuffed Acorn Squash with Almond & Cherry Wild Rice Pilaf
Lasagna with Butternut Squash, Spinach, Mushrooms & Tomato Wine Sauce
Eggplant Parmesan with Fresh Tomato Sauce, Basil & Handmade Mozzarella
Lasagna of Grilled Vegetables, Ricotta & Crushed Red Pepper
Pad Thai with Tofu
Grilled Tofu & Vegetable Kebabs
Pistachio Crusted Tofu with a choice of Pomegranate Demi-Glace / Teriyaki Tofu / Red Curry Tofu
Stuffed Red Peppers Filled with Brown Rice, Sweet Potatoes and Mushrooms, Salsa Verde
Marinated Grilled Jerk Seitan Skewers
Spicy Cajun Seitan with Crispy Sweet Potato Coins
Seitan Piccata with Lemon Juice, Butter, Capers and Parsley
Orange Balsamic Glazed Tempeh
White Bean Cassoulet with Crispy Shallots
Curry Vegan Lentil Patties with Mint Chutney Yogurt
Spicy Black Bean Cakes with Fresh Fruit Salsa / Chipotle Aioli
Vegetarian Shepherd's Pie
Stuffed Peppers with Cous Cous & Artichokes
Roasted Fingerling Potatoes with Pearl Onions

Scalloped Potatoes with Jarlsberg

Yukon Gold Whipped Potatoes with Roasted Garlic

Roasted Red Potatoes with Rosemary & Garlic

Boiled New Potatoes with Butter & Parsley

Roasted Yukon Gold & Sweet Potato Planks with Shaved Onions & Garlic
Sweet Potato Gnocchi with Brown Butter and Sage
Potato Pancakes & Sautéed Apple
Whipped Potatoes with Mustard & Crunchy Shallot
Basmati, Wild Rice with Chickpeas, Currants and Herbs
Wild & Brown Rice with Apricots, Almonds & Fresh Herbs
Wheatberries, Dried Cranberries & Apricots with Fresh Honey-Herb Vinaigrette
Herbed Wild Hive Polenta with Crème Fraiche and Parmesan
Yellow Rice with Soffrito & Red Beans
Fried Sweet Plantains or Tostones
Bulgur Salad with Chickpeas, Roasted Red Peppers & Spiced Cumin Dressing
Edamame, Corn & Red Pepper Succotash
Wheatberry Tabbouleh Salad with Feta, Red Pepper, Cucumber & Scallions
*
Double Dutch Macaroni and Cheese with Buttery Crumbs
Toasted Barley Risotto with Seasonal Vegetable & Parmesan

Creamy Parmesan Risotto with Fresh Seasonal Vegetables

Butternut Squash Risotto with Roasted Brussels Sprouts & Sage
Toasted Orzo with Caramelized Onions, Goat Cheese & Fresh Spring Peas

Cheese Ravioli with Sun-dried Tomato Pesto / Basil Pesto
Wild Mushroom Ravioli with Brown Butter & Sage
Penne Pasta with Oil Cured Black Olives, Garlic, Cherry Tomatoes & Fresh Basil
Herbed Gnocchi / Sweet Potato Gnocchi with Brown Butter & Sage
Pasta with Cherry Tomatoes, Mozzarella, Olive Oil & Fresh Basil
Pasta with Grilled Zucchini, Olives, Ricotta Salata & Mint
Spinach Fettuccine with Marinara & Ricotta
Pasta with Mushrooms & Gorgonzola Sauce
Pasta with Pantesco Sauce (Tomato, Garlic, Capers, Herbs, Red Peppers)
Penne a la Vodka with Fresh Parmesan & Basil
Pasta with Roasted Root Vegetables, Rosemary & Brown Butter
Farfalle with Spicy Sausage, Greens & Lemon-Basil Tomato Sauce
Pasta Salad with Artichoke Hearts, Walnuts, Olives & Sweet Red Peppers
Thai Noodle Salad with Ginger-Lime Dressing
Vegetarian Red Curry Noodles
Cold Sesame Noodles with Spicy Cilantro-Peanut Pesto
Rice Noodles with Seasonal Vegetables, Tamarind Sauce & Peanuts
*
Roasted Asparagus with Lemon Butter
Green Beans with Toasted Garlic & Crushed Red Pepper
Grilled Zucchini with Black Olives & Mint
Sugar Snap Peas with Sweet Red Pepper
Stir-Fried Vegetables with Orange Zest & Crispy Cashews
Sautéed Baby Spinach with Crispy Shallots
Grilled Eggplant, Peppers & Zucchini with Olive Oil & Balsamic
Ratatouille
Ginger-Orange Glazed Baby Carrots with Tops
Caramelized Root Vegetables
Sautéed Broccoli with Toasted Garlic
Curried Cauliflower with Hot Pepper Flakes & Golden Raisins
Sautéed Kale with Sesame & Ginger
Roasted Cauliflower with Saffron & Parsley
Zucchini with Spicy Harissa
Grilled Vegetable Kebabs
Roasted Corn on the Cob with Chile-Lime Butter
Roasted Root Vegetables & Winter Squash with Chili Honey Sauce
Roasted Brussels Sprouts & Acorn Squash
Broccoli Rabe or Escarole with Olive Oil and Garlic
Cake / Cupcake Flavors – If you don't see it, ask!
Vanilla with Vanilla Butter Cream / Chocolate Butter Cream / Lemon Butter Cream
Chocolate with Vanilla Butter Cream / Chocolate Butter Cream / Espresso Butter Cream / Salted Caramel
Red Velvet with Cream Cheese Frosting
Carrot Cake with Cream Cheese Frosting
Coconut Cupcake with a Coconut Lime Frosting VG
Green Tea Cupcake with Mandarin Orange Frosting
Chai Latte Cupcake with Vanilla Spice Butter Cream
Vanilla Cupcake with Maple Syrup Butter Cream & Chopped Walnuts
Lemon Cupcake with Lemon Cream Filling & Meringue Topping
Peanut Butter Cupcake with Dark Chocolate Frosting
Chocolate-Mint Cupcake with Chocolate Mint Ganache
Ginger Cake with Pistachio Buttercream VG
Housemade Pies
Apple Crumb / Apple / Cherry / Blueberry-Peach / Pecan / Chocolate Banana Cream / Key Lime / Mixed Berry / Pumpkin
with Vanilla Ice Cream and or Whipped Cream
Mini Mason Jar Desserts- If you don't see it, ask!
Strawberry Shortcake / Salted Caramel Brownie / Carrot Cake / Cheese Cake / Pecan Streusel / Chocolate Banana Cream / Key Lime / S'mores / Fruit Crisps / Blue Berry Pie / Chocolate Peanut Butter Cup
Cake Pops
Seasonal Fruit Shortcake
Housemade Shortcake Biscuit with Vanilla Whipped Cream
Petite Sweets
Cheesecake Bites with Toasted Coconut / Pistachio Dust
Pecan Diamonds
Lemon Bars
Chocolate-Dipped Strawberries
Carrot Cake Bites
Dark Chocolate Brownies
Mini Cupcakes
Chocolate Petit Four Mousse Cups
Cannolis
Fruit Crisp Cups
Espresso-Chocolate Mousse
Housemade Chocolate Truffles
Fresh Fruit Tarts with Lemon Cream
Whoopie Pies
Almond Joy Brownies
Housemade Cookies
Chocolate Chip / Oatmeal Raisin / Peanut Butter / Lemon Shortbread / Triple Ginger
Fresh Seasonal Fruit Display
Crème Brulee Tower
Classic Vanilla Bean / Chocolate / Grand Marnier / Coffee / Strawberry-Mint
Make Your Own S'mores
Graham Crackers, Hershey's Chocolate & Marshmallows
Presented for Easy Fixing with Wood Skewers & Sterno-fired Roasting Pit
Make Your Own Sundae Bar
Vanilla Ice Cream
Hot Fudge / Dulce de Leche / Housemade Strawberry Sauce
Dark Chocolate Chips / Nuts / Reese's Pieces / Cherries
Whipped Cream / Rainbow Sprinkles
Assorted Sorbet
Inquire about your favorite flavor!
Ice Cream Bars
Ice Cream Sandwiches / Strawberry Shortcake Bars / Firecracker Pops
Chocolate Fountain
Dark Belgian Chocolate / Milk Chocolate
Ideas: Bananas, Strawberries, Pineapple, Grapes, Cherries, Dried Apricots, Marshmallows, Rice Crispy Treats, Potato Chips, Pretzels, Macaroons, Graham Crackers, Oreo Cookies, Peanut Butter Cookies
Late Night Snacks
Taco Station:
Beef or Chicken, Veggie
Lettuce, Tomato, Onion Mix, Grated Cheese, Sour Cream, Hot Sauce, Corn and Flour Tortillas
Nachos: cheese, beans, onion, cilantro, pickled jalapenos
Passed or Stationary:
Pretzels with mustard and cheese sauce
Slider Options: Beef, Buffalo Chicken, Portobello
Grilled Cheese
Egg Rolls
Chicken and Waffles with Maple Syrup
Bacon Egg and Cheese Sandwich
French Fries with or without Gravy
Flatbread Pizza
Quesadillas
Hot Dog Bar
Popcorn
Milk and Cookies
Milkshakes